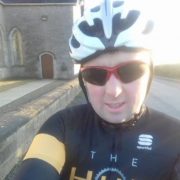 I am just a couple of weeks into my cycling program provided to me by Alan & Vinnie at Greenmount Coaching, Already I can see & feel the benefits of the program. These guys really know their stuff!
I signed up last month to a Leisure/Racing package with the lads at Greenmount Coaching. They set me up on a Turbo trainer and showed me how to use a heart rate monitor. They are patient and helpful and I am delighted with the level of service from the lads at Greenmount!
The guys at Greenmount Coaching are top notch! They have started me on a 12 week training program on my bike. They taught me all about setting up my bike, using my gears and how to ride in a group. I am a lot more confident on the road thanks to the guys. Alan and Vinnie are very knowledgeable and experienced in all things cycling. I am looking forward to starting my first sportive in a couple of weeks!