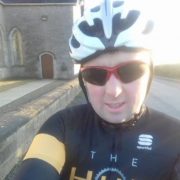 I am just a couple of weeks into my cycling program provided to me by Alan & Vinnie at Greenmount Coaching, Already I can see & feel the benefits of the program. These guys really know their stuff!
I decided to give competitive cycling a go this year. I was coming from a background of soccer and running and at 47 thought I was to old to be honest, but through Alan Loftus @ Greenmount Coaching, I found a coach who inspired me to give it a go. I have totally enjoyed it and his training has put me on the right track as my win in Fermoy proves.It is well worth signing up with Greenmount Coaching and getting the personal coaching packages they provide.
I signed up last month to a Leisure/Racing package with the lads at Greenmount Coaching. They set me up on a Turbo trainer and showed me how to use a heart rate monitor. They are patient and helpful and I am delighted with the level of service from the lads at Greenmount!
The guys at Greenmount Coaching are top notch! They have started me on a 12 week training program on my bike. They taught me all about setting up my bike, using my gears and how to ride in a group. I am a lot more confident on the road thanks to the guys. Alan and Vinnie are very knowledgeable and experienced in all things cycling. I am looking forward to starting my first sportive in a couple of weeks!